As businesses are beginning to reopen, there are questions that need to be answered: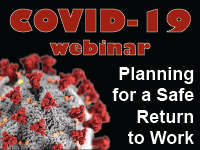 What risks do we have by reopening to employees / the public?
How can we manage those risks?
How do I provide comfort to our patrons that our environment is safe?
How do I provide comfort to my employees that our environment is safe?
What tools can help me keep my environment clean?
ClorDiSys has a long history of working in some of the most sterile environments in the world. Since 2001, we have been growing our expertise by learning from the places we've worked and visited. We're looking to help businesses apply the most practical of these tools and techniques to their protocols for reopening and their enhanced contamination control plans. Every business has a different set of risks, so please give us a call at 908-236-4100 to discuss your situation or click here to have someone contact you.
ClorDiSys offers electrostatic spraying to allow for affordable yet effective treatment of spaces. We offer single-event or routine disinfection of any size space from our experienced team. Treatments vary from full coverage within a facility to hitting touch points and common areas. After service is complete, environments can safely reopen within a short period of time, typically 30-60 minutes.

We also offer BioBlock90, a silane based solution which adds a protective layer of nanoparticles to surfaces. This couples disinfection of surfaces with up to 90 days of microbial control to give protection into the future.
Ultraviolet Light Products
We have a line of easy-to-use and highly effective ultraviolet light products for in-house disinfection of a variety of applications. Our products are being used by Hospitals, EMS Squads, Doctor's and Dental Offices, Police and Fire Departments, Pharmaceutical Manufacturers, Food Manufacturers, Construction Companies, Universities, as well as Office Buildings.